"We were praying for help, and we got it in the most unexpected way."
This is a story of strangers turned family. This is a story of ultimate hope. This is a story to motivate you to lead with kindness.
9-year-old Jonah was gifted a giraffe stuffie and matching blanket at birth. They have always been a security attachment for him and the items tagged along everywhere Jonah went. Just a few weeks ago, he brought that stuffie and blanket on a family trip and carried it safely in his carry-on backpack. All was fine until his plane ride back, when he accidentally left that backpack at baggage claim. His parents, John and Kelly, didn't realize the pack was missing until they returned home and couldn't find it anywhere.
They rushed back to the airport, but sadly the backpack was nowhere to be found.
As many can imagine, Jonah was not only devastated, he was panicked. They reported it missing with the airport. Four long days went by without any word from officials. Finally, a ping came through to Jonah's parents – the iPad that was also inside the missing backpack was turned on and tracked to the airport.
Jonah's parents contacted NFTA Transit Authority Police Department to further the investigation. At that point, the family was ready to offer up a $500 reward because the missing stuffie and blanket meant everything to Jonah. The family ran into Officer Scott Massey of Transit Police where he took a report and said he would search the airport cameras for any answers as to what happened.
Two hours later, there on the cameras, Officer Massey spotted the bag being picked up by a passerby. The officers knew they had to take this seriously, and asked the family to provide pictures of the contents inside the backpack. Jonah's dad says nothing else mattered but Jonah's giraffe pal and blanket set.
"This kid was mourning a death – it was very traumatic for him."
That's when things turned for the better and the family felt a level of kindness they call "life-changing".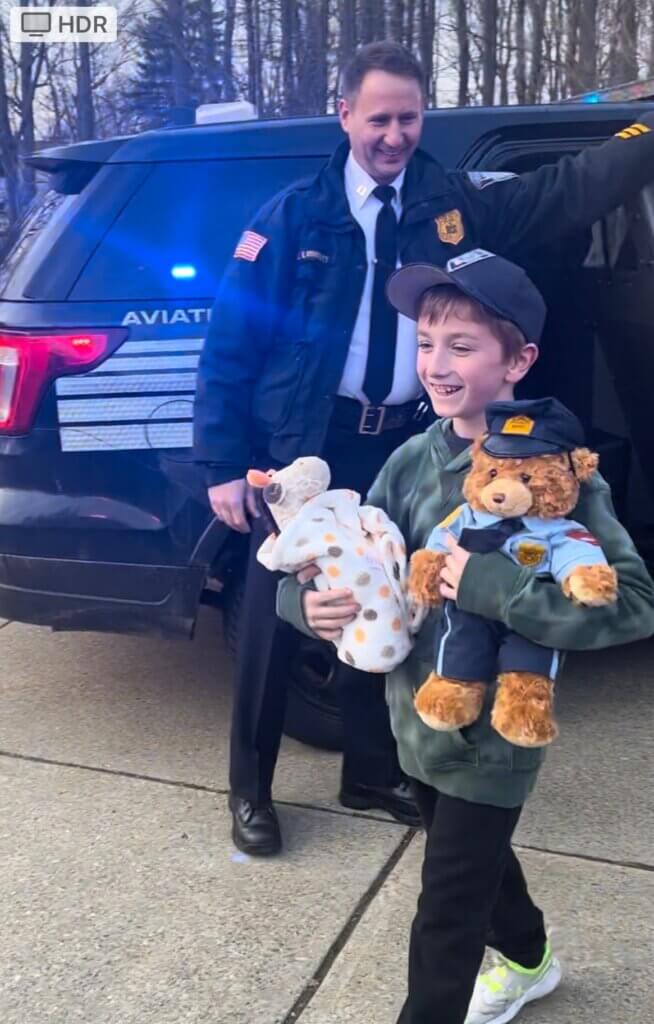 "Later that day, we were contacted by Detective Palladino, who began investigating. We went down to the Transit Place and spoke to Captain Loubert, who wanted to help in any way he could. He knew how serious this was because of how much this impacted Jonah."
Captain Loubert spent hours upon hours – digging online to locate a replacement stuffie and blanket. But, with the items being manufactured nearly a decade ago, it was nearly impossible to find a match.
Then – he found one… on eBay! It was the last of its kind and the seller on eBay graciously shipped it out to Captain Loubert. "He called us and said the department wanted to bring it out to Jonah and deliver it personally with other surprises, too. This entire experience was over the top – we couldn't believe how much the police went out of their way to bring some happiness to this situation."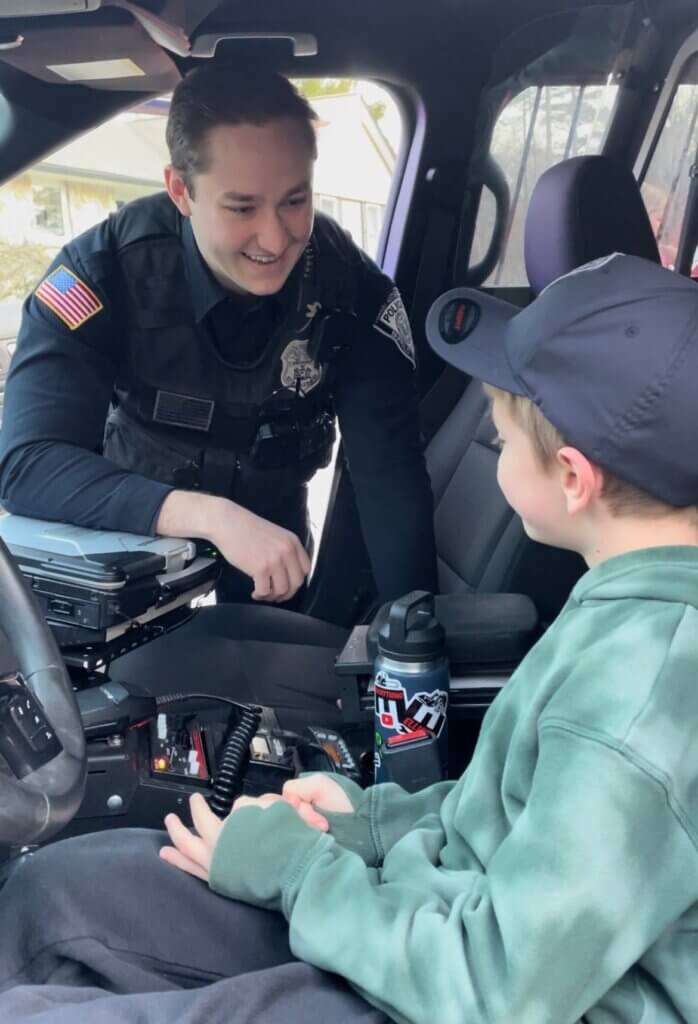 A few days passed and all three men – Officer Massey, Detective Palladino, Captain Loubert – as well as K9 Officer Bingam pulled into the family's driveway, flashing lights and all. They asked for Jonah when they knocked at the door.
"They asked him to come to their vehicle where the giraffe stuffie and blanket were carefully seatbelted in, and they also stopped to Build-A-Bear where they created him a police stuffie to watch over Jonah's giraffe. They additionally made Jonah an 'Honorary Transit Police Officer'."
John adds – "The whole thing was just pure magic. The whole thing is a definition of the power of hope."