"Crying on the inside."
An incarcerated inmate at Vernon C. Bain Correctional Center left a note with those words for singer-songwriter Matt Butler after watching him perform there.
Butler describes the jail as a brash, intense, floating barge. Inmates are afraid to show vulnerability on the outset – that's not how people survive maximum security prisons. They put up brave façades, even when undergoing intense emotions because of what caused their imprisonment, the lives they previously led outside of the walls that barricade them, and the family and friends they had to leave behind.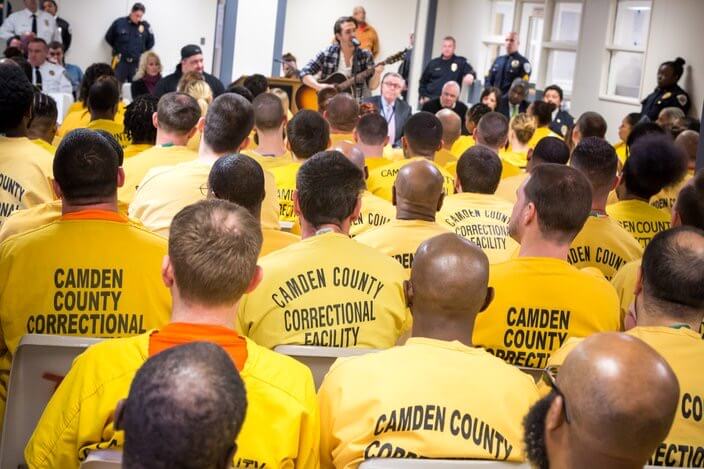 But, the inmate had a moment of closeted vulnerability, and felt comfortable enough to share those four piercing words with Butler – words that continue carrying Butler through his mission to serve the incarcerated and provide healing to them.
Living a nomadic lifestyle since 2016, the New York City-based musician has performed in more than 50 jails and prisons. He does this through his nonprofit, Art That Serves, with the mission of bringing arts to the incarcerated, with the overarching notion that art can cultivate compassion in people.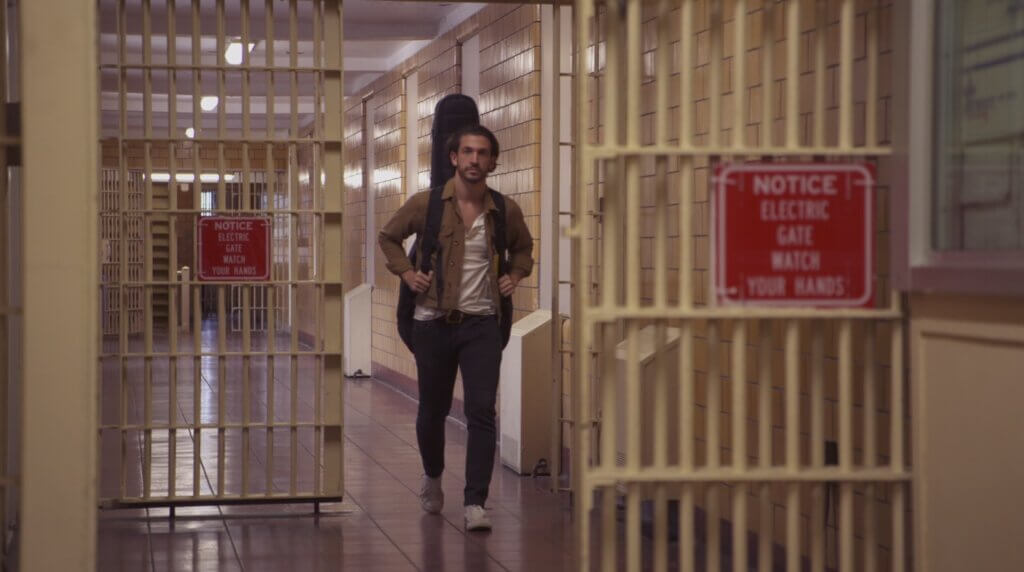 Through performing and hearing inmates' stories, he compiled these narratives into a nine-track EP featuring songs and stories – Reckless Son – each track representing a different person he's met through his journey. Butler goes by the pseudonym Reckless Son, too. Though he's sharing their stories, he is also a reckless son, as the stories he wrote about are through his lens of what he felt and experienced when meeting them.
Today, Butler released a song called "Been Gone So Long," the first single off Reckless Son, a song that unveils the tribulations people face when reentering society after incarceration.
Butler notes that when inmates gain their freedom, additional obstacles clobber them, and oftentimes their economic disadvantage leads to recidivism. Though they have physical independence, the mounting challenges metaphorically immobilize them.
Those reentering society struggle with finding employment, finding transportation to meet with parole officers, getting to job interviews, finding safe places to live, and finding places to help them with their mental, psychological and spiritual well-being.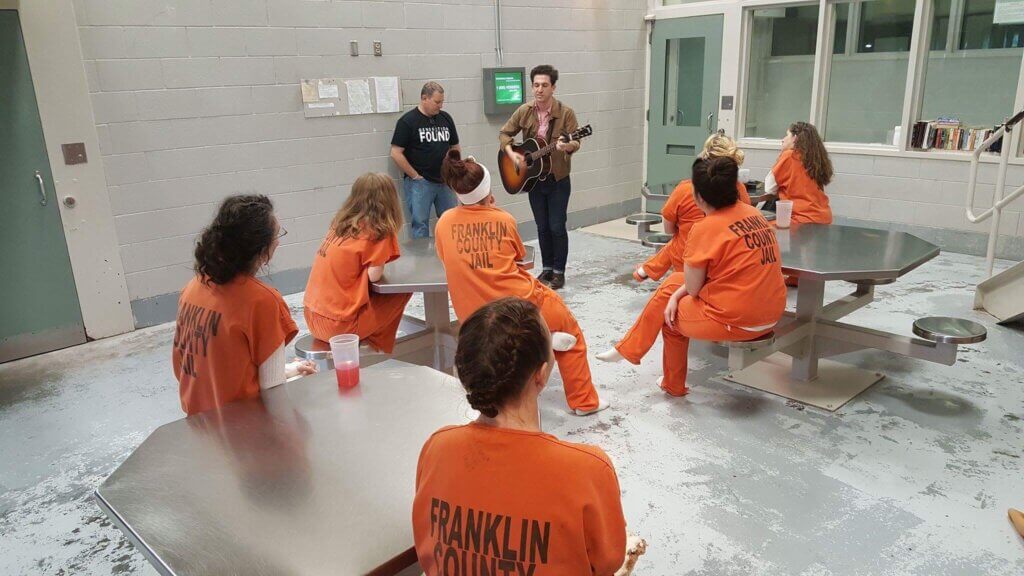 "The intention behind the song and the whole body of work … is to just try to make those stories feel more relatable and universal to the average person that doesn't necessarily have that experience," Butler said. "Creating empathy and compassion in a listener is really what I strive to do the most, and as a result that someone might be a little kinder to someone else."
Though Butler wrote the EP to give perspective to those who may not understand the issues that the incarcerated face, he stays true to what he loves most – performing to people in jails. In fact, even though Butler is a touring musician, he feels more comfortable playing in jails than in concert venues.
During a typical show for inmates, he performs songs but also shares stories and talks with them between tracks. He gives them a platform to freely share their experiences and listens compassionately.
"Music [means] so much more at that moment than entertainment of any kind," Butler said. "There was so much more meaning in what it was that they were doing and I in my own life felt that lacking. I got interested in music because I think it has this incredible transcendent and healing power … and then seeing these guys singing these songs inside that facility, there is something really magic happening, and that's what I would like music to mean in my life."
Butler feels privileged to share these musical experiences with the inmates, and realizes the irony in what he does.
"People get locked away in these places, but you also can't get in," Butler said. "The doors are not open. To be able to have somebody invite you in is a real privilege. And that was never lost on me. This is a very special thing. The doors were all opening to me."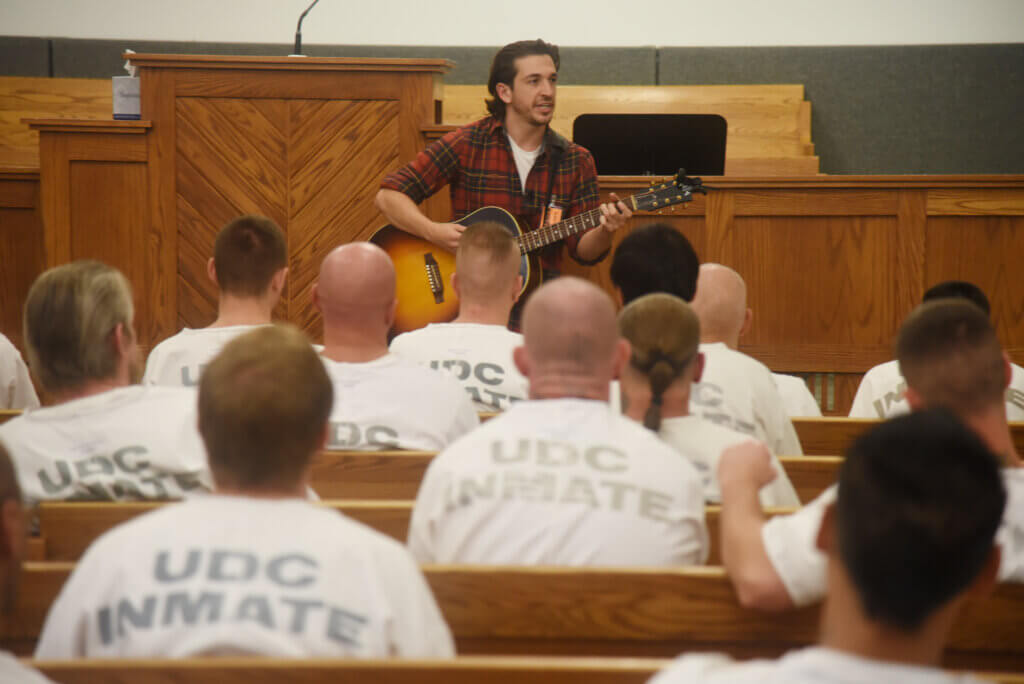 With the doors that opened to him to perform to this population, hope found its way in through those doors, too. Though Butler strives to bring hope to those he performs for, he feels like he gains the most from those he interacts with – he's a reckless son, like those he tells stories about.
"I have been the prime beneficiary of the whole experience," Butler said. "It's given my whole life a sense of purpose that I've never had and that I was always looking for. That's part of the story of Reckless Son, too – finding purpose in trying to be helpful to other people. … My whole life felt like the world had no place for me, like I was just trying to force my way in here; this gave me a sense of my own worth as a person that I never had before."
Matt Butler also created a mini documentary called "Mother's Day Miracle" about Jenny, an inmate he met while performing at Chesterfield County Jail. Jenny reunited with her family and gained employment after she was released from prison.
This piece was written by Hope Rises Contributor, Vilona Trachtenberg. Follow her work by clicking here.