A pre-teen from the Albany, NY region was victim to bullying so severe that she contemplated taking her life. Morgan's mother, Susan turned to her Facebook friends requesting that kindness be sent to her daughter.
She never expected that it would lead to international love for Morgan.

Hope Rises picked up the "Kindness Campaign" and through our channels we were able to gather gifts and letters of encouragement from around the country. Through Hope Rises, singer/songwriter Mindy Davey heard about Morgan and knew she had to help. She wrote "Morgan's Song".
Take a listen.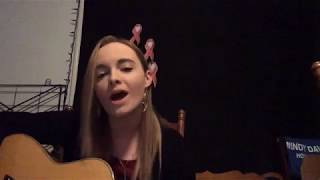 "When I first found out about Morgan, I knew I needed to reach out and say something! At first I reached out to my fans, as well as community and collected cards, but then I also wrote her a song. We posted it to Hope Rises and dedicated it to Morgan. She was beyond emotional that a song was written for her.
So I reached out to her mom to see if we could meet up with Morgan and on April 7th we made that happen. We drove out to Syracuse, NY to meet up with Morgan, open her collected cards and gifts, and just spend time with her.
I found out her birthday was April 12th, so I bought her a birthday cake and we had a celebration of hope, love and birthday wishes! I had a special surprise for her which was a guitar and amp to learn and play on. When I gave it to her, her eyes lit up with joy! We got it plugged in and ready to go and I taught her chords for 'Morgan's Song', and as we sang together I looked at her almost the entire time. It truly was an emotional feeling.
She knew every single word!
To see her face so happy, and to notice her confidence, it truly touched my heart. This experience was one I will never forget.
If there's anything I want anyone to take from this – you're BEAUTIFUL & you're LOVED.
We are in this together and together we can make a difference." ~Mindy Davey
#HopeRises