Despite a challenging few weeks, Maverick is one tough, little guy.
It was Easter Sunday when Maverick and family were visiting at a relative's home. A joyful gathering turned tragic.
In just a split second, Maverick was attacked by the grandmother's dog when he was on the floor near the dog.
Erika and family rushed him to their local hospital, but medical professionals knew he needed specialized care, and rapid response.
That is when Mercy Flight, the lifesaving emergency medical transport organization, transported Maverick and Erika via helicopter to the organization's Learjet, which then transported the baby hundreds of miles away to Shriners Hospital in Cincinnati. The lifesaving heroes had him there within an hour.
He needed immediate surgery to repair the gaping wound on the right side of his face, including his lip.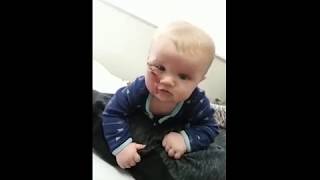 "If it wasn't for the immediacy of the first responders, and the surgeons who stitched him together, we wouldn't be where we are today," Erika says.
The incredibly miraculous efforts of surgeons pulled a flap of skin from Maverick's cheek and grafted it across the corner of his lip.
Erika jokes, "Thank God he's chubby. They didn't need to pull skin from another part of his body to repair the wound."
As you can imagine, it's been a major life change for the family. Maverick has been back to Shriners for monthly checkups and he is being monitored for infection.
While Erika and family understand that this was an accident, she urges parents to watch young children around pets. She says even dogs that are friendly are not always perfect.
"Your life can change in one second. While we refuse to let this define him, for now this accident will impact our every move we make in the foreseeable future. He is still perfect and he is still beautiful."
Erika is devoted to caring for Maverick as he heals. Loved ones of the family are hosting a benefit to support Maverick and his tough fight to get better. Details can be found below.
If you wish to contact the family to show your love and support, contact toughlikemav.com.