​
​
This photo collage shows the many incredible faces of rescue dogs – those who have been in desperate need of a home, some who have been on death row waiting for a miracle.
All of them have come in contact with photographer, Marlee Coulter of Buffalo, NY.

Marlee runs Marlee & Me Photography and while she specializes in everything from family photography to maternity shoots, her heart is devoted to her side project of photographing rescue dogs in need.
"Shelter animals are more likely to be rescued or adopted if they have amazing profile pictures that show their true personality," she says.
Her project has allowed her to capture the beauty of hundreds of animals. And as a result, find homes for nearly all of them.
Marlee donates all of her time and resources to give these dogs a second chance.
Many of them are pit bulls, a breed that is often misunderstood and in consequence are discriminated against. But she says she has also photographed puppies that have needed homes.
Why does her heart tick for dogs in need? Hear from her here: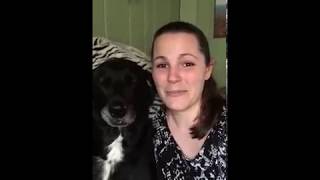 Additional photos of Marlee's work:

#HopeRises