"Wiley and I were best buds. I got him in 2004 at just 3-months-old, and my parents adopted his sister, Oreo (pictured below). My husband and I met in 2009 and married in August 2014. Wiley and my husband's dog, Gaucho, were supposed to be in the wedding, but in July of 2014, Wiley received a bad haircut and I decided to take the dogs out of the wedding.

From June through December, I was growing Wiley's hair out – he was beautiful. Two days before he went missing, he was groomed. My husband and I were on our way home from Los Angeles after traveling when Wiley went missing. My brother in law was watching the dogs in Las Vegas and when he called them for dinner, he realized Gaucho and Wiley were missing.
I got home two hours later, and we found Gaucho, but not Wiley.
December 14, 2014 – I printed hundreds of flyers and plastered the neighborhoods. I offered $1000 reward. We were threatened, lied to and sent on wild goose chases looking for him. We got dozens of calls with false alarms and we checked out each of them. We sent his flyer to every groomer and vet in Las Vegas. I put out a missing dog alert and faxed every vets office. I was devastated and was admitted to the hospital for exhaustion and depression.
I continued to search for Wiley for months. I was certain he was stolen. My heart sank every time I drove through my neighborhood and saw the posters being torn down.
In May 2015, my grandfather died. My grandmother met a "spiritual healer" in the fall of 2015 and she said she could see 'Grampa George'. She said there was also a little white dog jumping up and down. At that point, I believed Wiley to be dead.
When it was time to renew my microchip subscription, I told them I assumed he was dead. I had received another Havanese, Ricky, from someone on a Havanese Facebook page after I shared my story of losing Wiley. Havanese are nicknamed 'Velcro dogs' and Ricky sure is a velcro dog!
One Sunday, my husband woke up early with our 19 month old son. He saw he had a missed call at 4:45 am and he listened to a message from the microchip company we had for Wiley – Home Again. They stated a woman named Beth Clements knew where Wiley was!
We called the number left on the voicemail right away. Together, for an hour, they learned the history of Wiley's disappearance and the work being done behind the scenes in locating Wiley. We picked up the pieces!
Wiley was found outside Red Ridge Park in Las Vegas – 17 miles from where he disappeared, but only 3 miles from my new home. He was recovered by a lady named Nicole. Nicole took him to a vet's office to have him scanned for a microchip. The chip was found, but the number came up in their database as unregistered. Nicole decided to take Wiley back home.
She first went to a groomer called "Wag n' Wash". She asked for help from the staff and, as they started to get him wet in the tub, he started to cough. The staff members told her he could have kennel cough or canine influenza and to take him to the Nevada SPCA because it's a no-kill shelter.
Nicole posted a photo of Wiley and his chip number on the Nextdoor app, meant to connect with others in the area. She explained that the chip he had came up unregistered and she took him to the NSPCA. Someone helped after that by taking a screen shot of the post on Nextdoor and putting it on a page for "Lost Dogs". The administrator of that page, Beth Clements, thought it was odd that his chip came up unregistered. She did some digging by checking the national database, and it was a Home Again chip. Beth called Home Again and they said they'd locate Robert and I.
Wiley was found!
I knew if I wanted to pick up Wiley or confirm he was at the shelter, I'd need proof he was mine. I printed the lost and found ad from Home Again that had his chip number on it, gathered pictures of him with short hair and long hair, and I brought his vet records sent to me that stated that he was treated for a cough in August 2014.
When I finally walked through the doors of NSPCA, Wiley was brought to me and that's when my mom started recording. We were looking forward to his reaction, but ended up getting mine!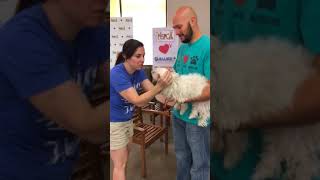 He was reunited with his biological sister, Oreo, and our other dog, Gaucho. He remembered them right away.
He met my new dog, Ricky, and also my 19-month-old son who immediately called him Gaucho. All dogs are Gaucho to Cooper!
He's adjusting well to being home. I am so blessed that after four years, I have my Wiley HOME.