Phoenix Rising Equine Rescue is a group of animal lovers committed to the rescue of abandoned, neglected, abused and homeless horses and ponies. One story in particular pulls at the heart and showcases the powerful work they do, without hesitation, when help is needed.
Meet Eclipse. This is her story.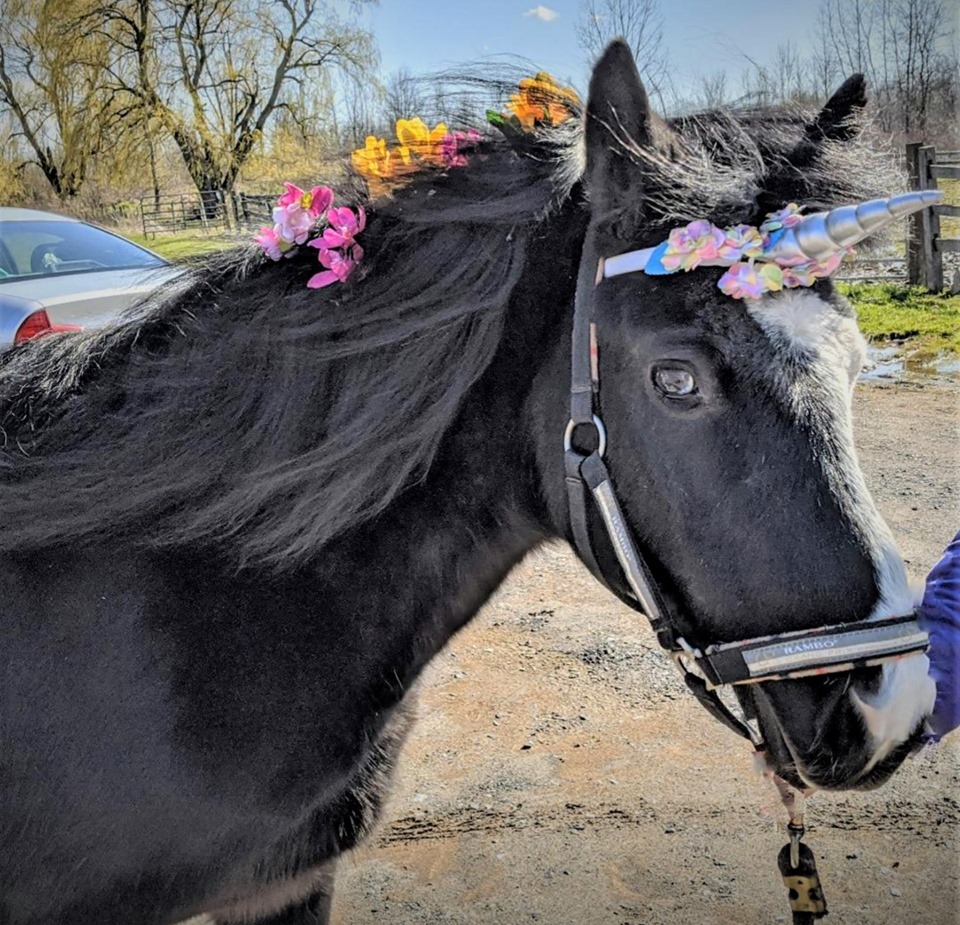 We received a call from our veterinarian at the end of August. She wanted to know if we could take in two ponies that had recently been removed from a horrific situation. We weren't quite prepared for what we would learn about them.
Here is the story – the fire chief of Pike, NY had been called out to the scene of a cardiac arrest. He found the owner of the property dead and he also found goats, pigs, cats, dogs, and geese wandering about with no food or shelter. He also noticed a small 2-horse trailer parked on the premises. When he looked inside, he was horrified to find two emaciated ponies with no food or water. They had been locked inside a rusted out trailer with rotted floorboards. Thankfully neither pony had put a leg through the floor.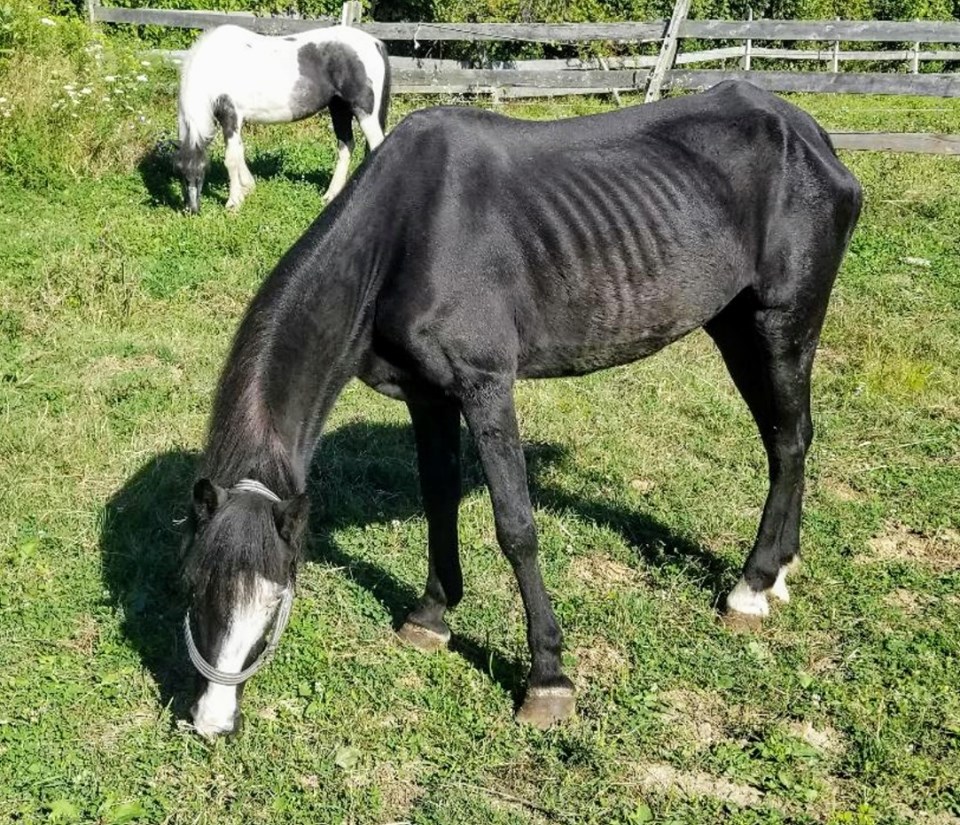 He immediately asked deputies to get them food and water while he contacted his wife and daughter to get their horse trailer ready to pick them up. He made calls, returned with his daughter, and removed the ponies as quickly as possible. He later found out the ponies had been locked in the trailer together for months.
A friend from the Mounted Sheriff's Division provided a place in her barn to temporarily shelter the ponies. She contacted her vet – who also happens to be our vet – who then contacted us to see if we could help. Despite having a full barn, we were able to arrange the pickup of the ponies and offering to rescue them.
We decided to call them Aurora and Eclipse.
Despite around-the-clock nursing care, Aurora was unable to recover. After trying for two weeks, she was humanely euthanized surrounded by people that cared for her and loved her. Aurora received more love in those two weeks than many horses receive in a lifetime. We miss her terribly.
Eclipse, however, seemed to have a core of steel. She began to recover from the pain she suffered. She received a special diet, along with veterinary care to help her regain her body weight and health. She was showered with love and care by all of us at the rescue and many of the girls at the farm.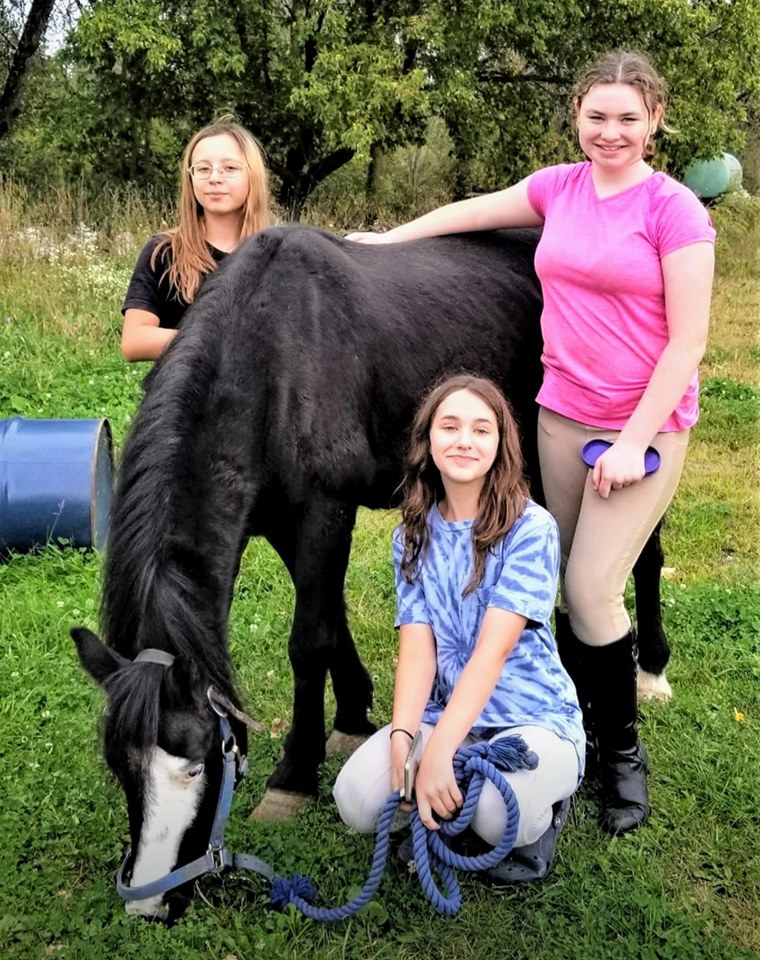 Eclipse is a very self-confident pony that is curious about everything. She recently began training and is progressing very well. Her most immediate needs were met, but her progress has been threatened by Covid-19. Having had to cancel our first two fundraisers of the year, our rescue is experiencing a major shortfall in funds. The cost of providing food and medical care for the horses is still the same, even though funding for the rescue has dramatically decreased due to the current state of our world with this pandemic.
Thanks to the generous nature of our friends and family, they are safe for the moment, but despite diligent searching, we have been unable to locate any type of grants or funding to assist us. Please consider helping with a donation to keep Eclipse and the other animals in our rescue fed and taken care of.
You can make a donation for Eclipse's care by clicking here.